Hundreds in Spain demand release of El Salvador priest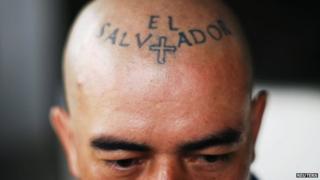 Hundreds of people in the Spanish town of Daimiel have marched to demand the release of a Roman Catholic priest detained in El Salvador.
Father Antonio Rodriguez, who was born in Daimiel, has been accused of smuggling mobile phones to imprisoned members of El Salvador notorious gangs.
Demonstrators say Father Tono has dedicated much of his life to helping gang members turn away from crime.
El Salvador has one of the highest murder rates in the world.
More than 300 of Father Tono's supporters, including Mayor Leopoldo Sierra, marched through the streets of Daimiel in Spain on Sunday.
Among them was a former Salvadoran gang member, Isamar Orellana, who now lives in Spain.
"I am a living example of how much Father Tono has done to help us get out of that difficult world," Ms Orellana told the EFE news agency.
"He was a wonderful person to me, the father I never had."
Gangs truce
In March 2012, the two main gangs in El Salvador - or maras - signed a truce mediated by the Catholic Church.
The 18th Street (or M-18) and the Salvatrucha (or MS-13) gangs, which operate across Central America, also agreed to a truce in Honduras.
The authorities say the move has saved thousands of lives.
But critics accuse the Church and the authorities of being lenient with criminal organisations involved in extortion, drug trafficking and murders.
Father Tono, who has lived in El Salvador for more than 15 years, was arrested on 29 July in the capital, San Salvador.
The Prosecutor's Office say the priest had been under investigation since March 2013.
"After monitoring his phone calls, we gathered evidence of his links with the leader of the 18th street gang, Carlos Ernesto Mojica Lechuga, who is in jail" said prosecutor Allan Hernandez.
"He was doing whatever Mojica Lechuga asked him to do," Mr Hernandez added.
'Anti-Catholic campaign'
Prosecutors say the priest successfully intervened to have a gang member transferred to a different jail at the request of Mojica Lechuga.
He has also been accused of smuggling mobile phones and other objects to gang members in prison.
One of the phones was used to coordinate an extortion operation against shopkeepers and stallholders in the town of Santa Ana, Mr Hernandez said.
Father Tono rejects the accusations and says he is the victim of political persecution by El Salvador's government.
President Salvador Sanchez Ceren, a former left-wing rebel, said the arrest was not part of an alleged government campaign against the Catholic Church in El Salvador.
MS-13 and the 18 Street gangs were created in the 1980s in the US city of Los Angeles by poor, mostly illegal, immigrants who had escaped from the civil war in El Salvador.
When the conflict ended, with a peace treaty signed in 1992, many of those already in jail in the US were expelled and deported to El Salvador, exporting LA's gang culture to Central America.