Colombian rebels attack Tibu oil field, says government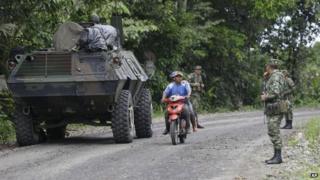 Colombian rebels have attacked an oil field in the north-east of the country, the state-owned company Ecopetrol says.
It said the attack on the Tibu field near the Venezuelan border, had put the lives of workers and residents at risk. However no-one was injured.
The Colombian military has not specified which group carried out the attack.
The two main left-wing rebel groups in Colombia - the Farc and the ELN - are known to operate in the area.
In recent weeks power stations, oil fields, pipelines and roads have been damaged in actions attributed to the guerrillas.
Presidential warning
Ecopetrol says a team working at the Tibu oil field was approached by armed men on Friday.
They threatened the workers before detonating explosives that damaged part of the facility.
The attack took place a day after the inauguration of President Juan Manuel Santos for a second term.
His success at the polls has been linked largely to progress in peace negotiations with the country's largest rebel group, the Farc (Revolutionary Armed Forces of Colombia).
The negotiations were launched in November 2012 and are taking place in Cuba.
The government believes it can reach a deal by the end of the year that will put an end to five decades of conflict.
The rebels have repeatedly called for a ceasefire during the negotiations, but Mr Santos rejected, saying it would allow the Farc to rearm and regroup.
But during his inauguration ceremony on Thursday, he warned that the talks could derail if the Farc carried on with their military campaign.
Earlier this year, the ELN (National Liberation Army) also said it was willing to enter negotiations with the government.