Leading Mexican PAN politician replaced after scandal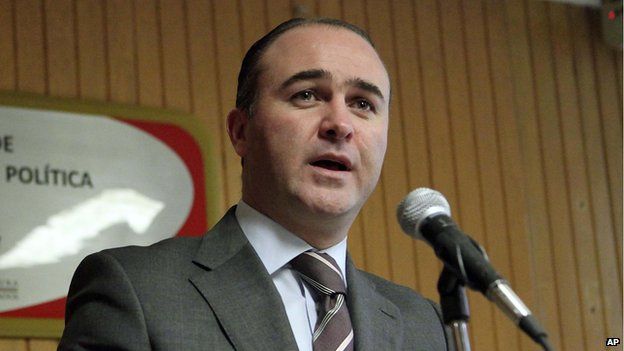 Mexico's conservative National Action Party (PAN) party has replaced Luis Alberto Villareal as its congressional leader after a video emerged showing him allegedly dancing with escorts.
Mr Villarreal acknowledged he had attended a party with other senior politicians.
In the video, they are seen dancing and embracing younger women apparently hired as escorts.
The party has not yet announced who will replace him as whip.
"I have taken the decision to renew the leadership and deputy leadership of the parliamentary group of the PAN in the Chamber of Deputies," the party's president, Gustavo Madero, said.
"I contacted Congressman Luis Alberto Villarreal whom I appreciated for his leadership."
Mr Madero said Jorge Villalobos, the deputy leader of the PAN in the lower house, would also be replaced.
The two will keep their seats in the lower house.
The two men attended the private party in the resort city of Puerto Vallarta earlier this year during a PAN conference.
The party dominated Mexican national politics from 2000 to 2012, before the rival PRI party returned to power with President Enrique Pena Nieto.