Mexican mine's toxic spillage closes schools in Sonora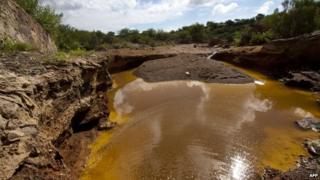 Up to 5,000 pupils have not been able to start the school year in the northern Mexican state of Sonora after a toxic spillage from a copper mine.
The authorities said 88 schools were not able to open this week for fear pupils could come into contact with water contaminated with acids.
The spillage from the mine turned a tributary to the Sonora river orange.
Environmental authorities have filed a criminal complaint against the copper mine blamed for the accident.
Environmental protection officials also ordered an inspection of all of the properties belonging to the Buenavista del Cobre company to ensure they comply with environmental regulations.
The schools said they would remain closed for at least a week.
Water emergency
The Buenavista Copper Mine in the town of Cananea spilled about 40,000 cubic metres (10 million gallons) of sulphuric acid into the Bacanuchi river on 7 August, officials say.
About 800,000 people are estimated to have been affected by the leakage. Locals said cattle grazing by the river and fish had been found dead.
Mexico's National Water Commission says it is monitoring the chemical levels in the river.
It said if the levels continued to drop, the emergency it had issued could be lifted later this week or early in the next.
Sonora is home to more than a quarter of Mexico's mining industry.