Chileans baffled by persistent bomb attacks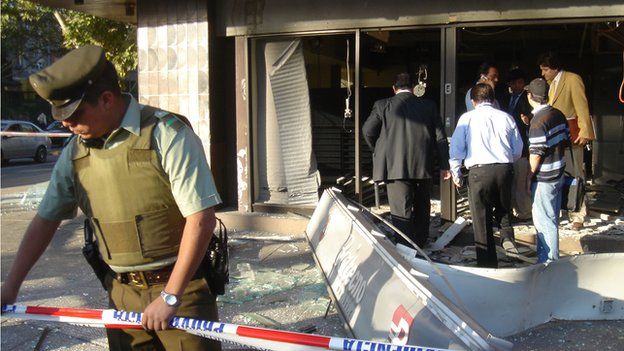 Santiago is generally regarded as one of the safest capital cities in Latin America, so it comes as something of a shock to visitors to find out that it has been hit by around 200 bomb attacks over the past decade.
The latest devices exploded in the early hours of 12 August outside two police stations, shattering windows in nearby buildings.
No one was hurt but the attacks have added to the sense of unease that many Chileans feel about the safety of their capital city.
"In both cases these were home-made explosive devices made from gunpowder inside a fire extinguisher, just as we've seen in so many attacks in the past," said Raul Guzman, a state prosecutor investigating the bombings.
In July, a similar bomb was planted on a metro train as it was standing in a station in a suburb of Santiago.
The driver of the train noticed the package and alerted the police, who evacuated the station before the device went off.
No one has been charged in connection with these latest incidents and prosecutors remain baffled as to who is carrying out the bombings, although anarchists appear to be to blame.
The bomb attacks started in 2005. Since then, around 200 devices have been planted across the capital.
Two-thirds have gone off while bomb disposal experts have defused the rest. A handful of bombs have also exploded in provincial Chilean cities.
About a third of the bombs have been placed outside banks but other targets have included police stations, army barracks, churches, embassies, the headquarters of political parties, company offices, courthouses and government buildings.
Most have been timed to go off at night when the streets are largely empty, and only a handful of passers-by have been injured, none seriously.
The only person killed in any of the blasts was a would-be bomber, Mauricio Morales, a young anarchist who died in May 2009 when the device he was carrying exploded prematurely.
Two years later, another anarchist, Luciano Pitronello, was severely injured when a bomb he was planting outside a bank exploded in his hands.
Around 80 different groups have claimed responsibility for the attacks and prosecutors say they do not know if they are dealing with one group that continually changes its name or many separate cells.
One group calls itself "The friends of gunpowder". Others are named after long-dead anarchists from Europe and the United States.
A group named after Leon Czolgosz, an anarchist who assassinated US President William McKinley in 1901, has claimed responsibility for at least five of the Santiago attacks.
Another group is named after Jean-Marc Rouillan, a jailed French left-wing militant.
Despite years of investigation, police and prosecutors have struggled to bring the bombers to justice.
In August 2010 police arrested 14 suspects, but during 2011 and 2012 the legal case against them collapsed.
Pitronello was brought to trial under anti-terrorism legislation but was convicted only of lesser offences and allowed to serve his term under house arrest.
The only person jailed so far is Hans Niemeyer, a Chilean sociologist and anarchist who is serving a five-year term for planting a bomb in a bank in November 2011.
Meanwhile, public fear over the bombs is growing.
An opinion poll published last month suggested 68% of Chileans are afraid of the attacks and 70% feel the problem is escalating.
President Michelle Bachelet has sought to calm those fears and to ease tensions between the police, state prosecutors and judges, who have been criticised for failing to stop the attacks.
"It's important that we don't simply pass the blame from one body to another but instead we coordinate and work together and come up with the intelligence to respond accordingly," Ms Bachelet told local radio station Radio Cooperativa in a recent interview.
Investigators are looking into links between anarchist groups in Chile and Europe.
Two Chilean anarchists who were tried and acquitted in connection with the Santiago bombings were later arrested in Spain where they were charged with planting a bomb in a church in Zaragoza last year.
That attack was claimed by a group named after Mateo Morral, a Spanish anarchist responsible for a deadly bomb attack against the Spanish royal family in 1906.
In December last year, the Chilean authorities barred a well-known Italian anarchist, Alfredo Maria Bonanno, from entering the country, while in 2010, Greek police defused a letter bomb addressed to the Chilean embassy in Athens.
Until now, the bombs have been a nuisance for Chileans rather than a serious threat to public safety.
But there have been nearly 30 attacks in Santiago this year, and prosecutors say they want to bring the long series of bombings to an end before someone is seriously hurt or even killed.