Hurricane Marie affects 10,000 families in Mexico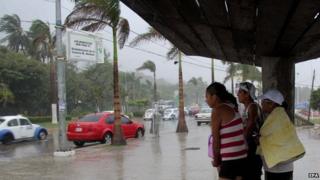 An estimated 10,000 families in Mexico have been affected by Hurricane Marie, which has been moving along the Pacific Coast towards the United States.
A state of emergency has been declared in 10 of the worst-hit municipalities in south-western Oaxaca state.
Road and transport links have been damaged by landslides and localised flooding.
Marie briefly strengthened to a Category Five hurricane but has since been downgraded.
It is far off land, about 750km (475 miles) off Baja California Sur moving west-northwest.
At one stage it had threatened to lash the small towns dotted along Mexico's Pacific coast as badly as they were hit by Hurricane Manuel a year ago.
But it has already caused significant damage to parts of the rural state of Oaxaca, says the BBC's Will Grant in Mexico City.
Meanwhile, the marines continue to search for three fishermen who have been missing since their boat sank on Sunday off the resort of San Jose de los Cabos.
Four other crew members managed to swim ashore.
The US National Hurricane Center (NHC) in Miami has warned that dangerous surf conditions are likely to spread northward from Baja California to southern California this week.
Last year, Mexico was hit almost simultaneously by two massive storms on its east and west coast.
Dozens of people died in mudslides and thousands had to be airlifted to safety.