Jailed Dutchman van der Sloot on hunger strike in Peru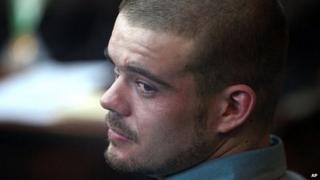 Dutchman Joran van der Sloot, who is serving a 28-year prison term in Peru for the murder of a Peruvian woman, has gone on hunger strike.
Van der Sloot, 27, is also the main suspect in the 2005 disappearance of US teenager Natalee Holloway in Aruba.
He says he is protesting against his transfer to a maximum security jail.
The prison authorities said he was moved to the remote prison on Saturday as punishment for threatening the warden at his previous jail.
'Set-up'
Van der Sloot's lawyer said his client had had "a problem with the director" of the Piedras Gordas prison on the outskirts of the capital, Lima, where he had been held.
Prison officials said Van der Sloot made death threats against the warden after guards confiscated a mobile phone he had smuggled into his cell.
In a video he recorded, Van der Sloot said the mobile phone was given to him by the warden as "a set-up".
He is now being held in Challapalca prison in the Andres, near the border with Bolivia.
Prison officials said he could be transferred to a prison with better conditions if he showed good behaviour.
Van der Sloot pleaded guilty two years ago to the 2010 murder of Stephanie Flores, a 21-year-old Peruvian business student.
He told the court he had met Ms Flores in a casino and killed her in a Lima hotel room after she had used his laptop and learned of his connection to the Holloway case.
Van der Sloot was the last person with whom Natalee Holloway was seen on the Caribbean island of Aruba before her disappearance.
The 18-year-old US student was on a graduation trip when she failed to turn up for her return flight to Alabama.
At the time he was questioned by police in Aruba, denied wrongdoing and was released.
However he remains a suspect in Ms Holloway's murder in the US. He also faces US extortion charges for allegedly taking $25,000 (£15,000) from Ms Holloway's mother in exchange for a promise - as yet unfulfilled - to reveal the location of her body.
In 2012 the Peruvian Supreme Court approved Van der Sloot's extradition to the US, but ruled he would first have to serve his murder sentence in Peru.
He has since married a 22-year-old Peruvian woman, which could potentially complicate extradition proceedings.