Venezuela's Maduro: Fingerprinting at shops is voluntary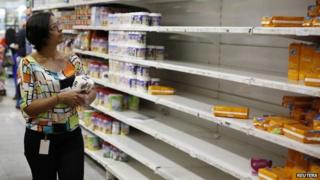 Venezuela's recently announced fingerprinting system, aimed at combating food shortages and smuggling, is to be "voluntary," President Nicolas Maduro has said.
Mr Maduro appeared to backtrack after ordering last week that fingerprinting in shops that sell food be compulsory.
He stressed the biometric system would stop people from buying too much of a single item and fight consumerism.
But the Venezuelan opposition called on all Venezuelans to boycott the scheme.
It has rejected the plan, saying it treated all Venezuelans as thieves.
However President Maduro defended his government's policy: "We will detect where the smugglers are and we will capture them."
He told a party meeting in the capital, Caracas, that the implementation of the system would be "voluntary" and start "in the next few days".
Up to 40% of the goods which Venezuela subsidises for its domestic market are smuggled to Colombia, where they are sold at much higher prices, the authorities say.
But the opposition blames what it says are the failed left-wing policies of the past 15 years - initiated by late President Hugo Chavez - for the country's economic crisis.
"Nobody should accept this violation of our constitutional rights," opposition leader Henrique Capriles said on Twitter.