Brazil candidates engage in verbal sparring in TV debate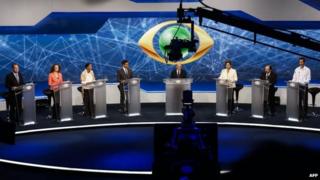 The first of Brazil's televised presidential debates has taken place just two weeks after the death of one of the leading candidates in October's election, Eduardo Campos.
His replacement, internationally renowned environmentalist Marina Silva, is already challenging incumbent Dilma Rousseff according to opinion polls.
Just two weeks ago, Ms Rousseff seemed to be coasting, almost sleepwalking towards another four-year term as president of Brazil.
Sure, economic growth has all but ground to a halt and crime levels have again started to creep up in many urban areas but Ms Rousseff's pragmatic and popular social policies have helped to elevate as many as 40 million of her countrymen and women out of poverty.
Surprise turn
Moreover, despite international business concerns about her protectionist economic policies, none of Ms Rousseff's main opponents for the presidency were able to get close enough to her to really challenge her bid for a second term.
So Tuesday's first televised debate between all seven presidential hopefuls should have been a walk in the park, a piece of political cake.
But politics is nothing if not unpredictable and fickle.
All of a sudden, President Rousseff began to look vulnerable and no longer unbeatable.
She arrived at Tuesday's debate, moderated by the Band TV Network, with new polls suggesting she was no longer the clear favourite she once was.
The woman who has turned the whole thing on its head and could yet make this Brazilian election the cliffhanger it was never meant to be, was not even in the race two weeks ago.
No novice
But then tragedy struck and Marina Silva is the reluctant beneficiary.
After the death of Socialist Party candidate Eduardo Campos in a recent plane crash, Ms Silva is suddenly the anti-establishment favourite in a field of candidates all seen as part of the political elite by an increasingly frustrated and sceptical electorate.
Slight, serious, incorruptible and religiously pious - it is difficult to criticise Ms Silva as a person.
But what about her politics? Born into an incredibly impoverished background in the rural north, she made her name as an environmental campaigner.
She is no political novice and has served before as minister in the government of President Luiz Inacio Lula da Silva but her emergence as a genuine presidential contender meant all eyes and ears were on her tonight in Sao Paulo.
Diluted arguments
Brazil's democracy is strong and vibrant, if not yet mature, but the policy of allowing all seven candidates to participate in these debates somewhat diluted the argument.
A ridiculously complicated question format (too complicated to explain in these pages) also muddied the waters and sometimes let candidates off the hook, allowing them to make bland statements about themselves rather than engaging in real debate.
It all started with a single question to all seven candidates:
"According to the United Nations, Brazil has some of the most violent cities in the world...We live in an incredibly violent society, what would you do to reduce and challenge the that reality?"
Ms Silva, who was simply dressed and serious, almost stern, talked first of Mr Campos's loss.
But she took too much time to address the question, never really getting into details about what, after all, is one of the most pressing issues in Brazil today.
Menace of crime
The president, in what turned out to be one of her most concise answers of the night, got straight to the point.
Ms Rousseff talked about the menace of organised crime.
She pointed to how, through multi-agency co-operation, the much feared social disorder and criminal activity on the streets of Brazil's cities never really became a big issue during the recent football World Cup.
After a nervous start, Ms Silva got into her stride insofar as she demonstrated a genuine but measured passion for political reform and the need to address inequality of opportunity in Brazil.
But just at the point where you were hanging on for some specific areas of policy, there appeared to be none.
Crime and insecurity apart, the biggest issues in this solid month of electioneering will be the economy and jobs.
Economic woes
It was to these issues that the arguably most business friendly of the three main candidates consistently returned.
Former governor and senator Aecio Neves asked Ms Rousseff more than once how she would address Brazil's slowing rates of economic growth and rising inflation.
Again and again, the incumbent blamed the underlying problems on the global economic decline and gave no indication whatsoever that she was contemplating major economic policy repositioning if she is eventually re-elected.
That will have disappointed foreign investors and some business leaders who see Brazil's once dynamic economy as too highly protected and increasingly inefficient.
Mr Neves said that while President Rousseff and Ms Silva sounded too similar with their unambitious plans for radical economic regeneration, he had the track record and would stop the decline.
Cagey debate
For a first in what will be many such debates, this was ultimately a cagey, almost polite affair.
Some of the more radical, edgy policy issues, such as homophobia and the decriminalisation of abortion, were raised not by the three main candidates but by the other four hopefuls and will sadly not figure as major points as the campaign progresses.
There were more awkward moments for Ms Rousseff, especially when asked to explain the crisis facing Brazil's state controlled petroleum giant, Petrobras.
But the president will be pleased with how she came across.
While Ms Rousseff and Mr Neves emerged as the biggest hitters, Ms Silva came out with her reputation as a committed believer in reform and justice intact.
There was no clear winner and while the next post-debate polls are eagerly awaited, this is clearly a much closer race than it once appeared.
A second round of voting in late October now looks like an almost certainty.