Ecuador police jailed for Correa assassination attempt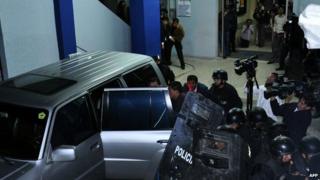 Six Ecuadorean police officers have been given 12 years in jail for trying to assassinate President Rafael Correa.
The six took part in a mutiny in 2010 during which officers besieged the president at a Quito hospital.
One of Mr Correa's bodyguards was killed when the mutineers opened fire on the president's car as he finally left the hospital after 12 hours.
The police were protesting over cuts to their benefits, but the demonstrations snowballed into a full-scale mutiny.
A lawyer for the officers said they were considering an appeal.
A total of 40 people have been convicted for their role in the mutiny.
Police uprising
Unrest broke out on 30 September 2010 as lower-ranking police and soldiers protested against cuts to their benefits.
After police occupied their barracks nationwide, Mr Correa personally visited Quito's main barracks in an attempt to defuse the situation.
Instead, tension rose further and officers shot tear gas canisters at the president who stood on the balcony tearing at his shirt saying: "If you want to kill the president, here he is. Kill him, if you want to. Kill him if you are brave enough."
Soon afterwards, he was forced to flee wearing a gas mask, and then was taken to hospital.
There, he was besieged for 12 hours, before finally escaping with the help of an elite squad, one of whose members was killed in the operation.
Ten people were killed and hundreds injured during the uprising, which Mr Correa said was an attempted coup against him by supporters of former president Lucio Gutierrez (2003-2005).
President Correa went on to be re-elected to a third term in office in 2013.