Peru seizes Europe-bound cocaine hidden in coal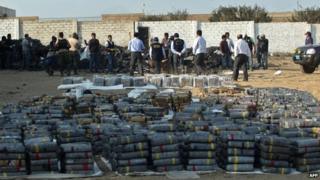 Police in Peru say they have seized at least 3.3 tonnes of cocaine hidden in a shipment of coal bound for Europe.
Officers discovered the stash in a house near the town of Huanchaco after a six-week surveillance operation with the help of the US Drug Enforcement Administration.
They arrested two Mexican and seven Peruvian nationals suspected of working for a Mexican drug cartel.
Peru is the world's top grower of coca, the raw ingredient for cocaine.
Counter-narcotics police chief Vicente Romero said it was the largest amount of cocaine seized in the Andean country so far this year.
Interior Minister Daniel Urresti said the cocaine was hidden inside lumps of coal the size of footballs bound for export to Belgium and Spain.
Peru overtook Colombia as the country with the largest area planted with coca bushes in the world in 2012.
The Peruvian authorities say they are doing their best to eradicate the illegal crops.
According to United Nations figures, the size of Peru's coca plantations dropped by 17.5% between 2012 and 2013, bringing them down to 49,800 hectares.
Police say much of the cocaine produced from Peruvian coca leaves is smuggled to neighbouring Brazil, or north via Mexico to the United States, with a sizeable quantity also being taken to Europe.