El Salvador gangs announce re-launch of 2012 truce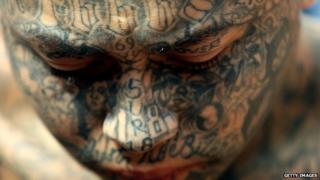 Leaders of five of El Salvador's powerful gangs say they will stop attacking police and military in a bid to re-launch a gang truce agreed two years ago.
The gangs want the government to provide "negotiating facilities" and promised to avoid "civilian" attacks.
The 2012 truce initially reduced murder rates by 40%, but killings have doubled since 2013 to around 11 killings a day.
In a statement, the gangs said it was a "second chance" for peace.
Spokesmen from the MS-13, Barrio 18, Mao Mao, Maquina, Miranda Locos 13 and other gangs said: " We view this new effort as a second chance for the country to achieve peace."
President Salvador Sanchez Ceren, who took office on 1 June, has not recognised the gang's truce and said he would develop his own strategy for reducing crime.
The gangs warned that violence would not be reduced unless they could give their co-operation.
"If we are part of the problem, we can be part of the solution," they said.
The gangs said they wanted the government to provide support to church and civil group mediators who could facilitate dialogue and prevent conflict between rivals.
Police say there are around 60,000 gang members in El Salvador, many with roots in the US city of Los Angeles.
Since 2012 there has been an increase in attacks against military and police premises and more reprisals against officer's families, police said.
The steep rise in violence this year has added impetus to the migration of youths and children to the US.