Brazil football club Gremio banned over racism incident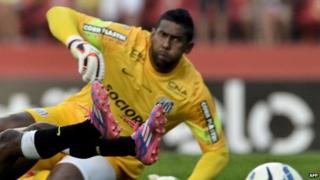 Top Brazilian football club Gremio has been banned from the country's main cup competition over a racist incident during a match last Thursday.
Gremio were losing to Santos 2-0 at home when a group of Gremio fans began racially abusing the opposition's black goalkeeper Aranha.
Live television coverage showed them shouting "monkey" at the player.
Brazil's highest sports tribunal banned the club from playing the second leg of the Brazil Cup tie.
The five-member disciplinary commission of the Superior Court of Sporting Justice also unanimously decided to issue the club with a fine of 50,000 reais ($22,300; £13,500).
"This is a landmark ruling," said the commission head, Fabricio Dazzi.
"I don't think racial abuse incidents like that will happen again. The fans will think twice, knowing that their club can be punished for their acts."
The referee and linesmen officiating at the match were punished by the court for failing to report the incident.
The Santos goalkeeper reacted angrily at the abuse, which happened in the 87th minute of play.
The referee said he did not hear the racial insults and thought Aranha was wasting time at the final stages of the match.
'Hardcore fans'
The court ruled that the fans involved in the incident at the Arena do Gremio will be banned from attending football matches in Brazil for 720 days.
Gremio said they were being punished for the actions of a small group of racist fans, and would appeal against the decision.
"I believe the decision was too harsh. Gremio has done everything it could to identify the guilty fans," said Gremio president Fabio Koff.
He denied that the club, founded by the descendents of Germans in the southern city of Porto Alegre, was institutionally racist.
Former Barcelona star Ronaldinho and 1970 left-back World Champion Everaldo are among Gremio's past black heroes.
But a hardcore group of Gremio supporters has been involved in recent racist incidents.
Earlier this year the club was fined after its supporters racially abused black defender Paulao from Gremio's bitter local rivals Internacional.
Gremio is one of Brazil's most successful clubs. It has won the Intercontinental Cup once, South America's Libertadores Cup twice, the Brazilian league twice and the Brazil Cup four times.