El Salvador ex-President Francisco Flores turns himself in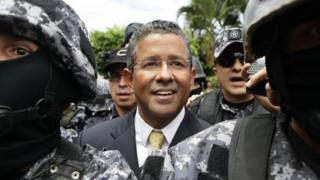 Former El Salvador President Francisco Flores, who is wanted on corruption charges, has handed himself in.
Mr Flores is accused of misappropriating $15m (£9m) given the country by Taiwan during his term in office between 1999 and 2004.
He denies the charges, which he says are politically motivated. Mr Flores had been missing for several months.
A warrant for his arrest was issued in May. A judge has now put him under house arrest.
"I have given myself over to the court voluntarily and out of respect for the law," he said on Friday after handing himself in to a judge in San Salvador.
Mr Flores, from the conservative Arena party, said he had asked Taiwan for donations on three occasions.
The first time, he said, it was to help reconstruction efforts after two earthquakes killed about 1,500 people in 2001.
Another time he had asked Taiwan for help in combating drug trafficking, and a third donation was to fight crime and gangs, he explained.
El Salvador's Congress as well as the attorney general opened investigations against him.
His successor as president, Mauricio Funes, said the US was investigating suspicious transfers into his bank accounts.