Paraguayan bus drivers in crucifixion protest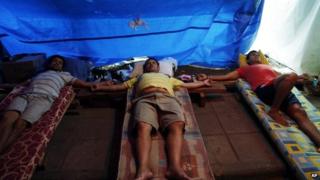 Three Paraguayan bus drivers have had their hands nailed to a cross in a protest at being sacked.
One of the men also sewed his mouth shut with wire to demand his job back.
The men lost their jobs after the companies they worked for cut their routes. They want the government to help out by reassigning their routes to other companies.
Last year, a group of drivers staged a similar protest and got their jobs back after weeks nailed to crosses.
The men involved in the latest protest work as long-distance drivers between Paraguay's biggest cities - Asuncion, Ciudad del Este, Encarnacion and Concepcion.
Driver Elvio Cristaldo submitted to crucifixion nine days ago.
"I'm bearing up, but it's painful," he said.
He has since been joined by two of his colleagues - Eligio Martinez and Clemente Lovera.
The drivers say they were sacked without advance notice.
They are protesting outside the offices of the government's transport agency (Dinatran) in the outskirts of the capital, Asuncion.
The drivers want Dinatran to assign their routes to a new company.