San Lorenzo stadium in Argentina to be named after Pope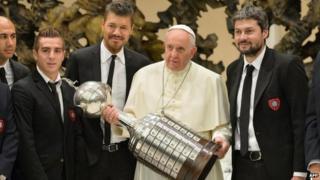 Argentine football club San Lorenzo has announced it will name its new stadium after Pope Francis.
The pontiff has supported the Buenos Aires-based team since he was a boy.
San Lorenzo, one of the oldest teams in the Argentine Football Association, is planning to build a new stadium in Boedo, a working-class neighbourhood in the Argentine capital.
The new venue will be built on land seized from the club during the time of military rule from 1976-1983.
Streak of success
The club announced its decision on Twitter following a meeting of its board: "Name of the future stadium on La Plata Avenue approved. It will be called: Pope Francis."
San Lorenzo played at its home ground in the Gasometro (Gasometer) stadium in Boedo until 1979, when debts forced the club to sell the ground to the military government.
It moved to the Pedro Bidegain stadium, often referred to as Nuevo Gasometro (New Gasometre), in 1993, but fans have campaigned to return to their historic grounds for years.
Fans donated money towards the purchase of the land, which the military government had sold to a supermarket chain.
After a court action forced the supermarket chain to sell back the land, the club drew up its plans for its new home ground, expected to be inaugurated in 2016.
Pope Francis is the team's most famous fan and some supporters have joked that their recent string of sporting success is down to him.
San Lorenzo recently won the Copa Libertadores - South American club football's most prestigious competition - for the first time in the club's 106-year history.
And last year they won the trophy in Argentina's top division.
But quizzed if his support may have played a part in his favourite team's victories, the Pope said at the time of their Copa Libertadores win that "I am very happy about it, but, no, it is not a miracle".