Brazilian baby registered with three parents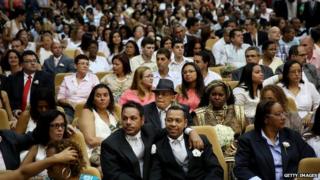 For the first time in Brazil, a judge in southern Rio Grande do Sul state has permitted a baby to be registered with two mothers and a father.
The judge said the baby's biological parents and the mother's female partner had requested the baby's birth certificate be changed.
The women married two months ago and the father was a male friend.
The judge, Rafael Pagnon Cunha, said his decision would open up legal precedents all over Brazil.
The two women had been in a four-year relationship before the birth and had asked their male friend to help them have a child.
He had agreed, but had asked in return to be recognised as the father of the baby girl, who was born on 27 August.
Judge Cunha said that all three parents had been involved during the pregnancy in the preparations for the arrival of the child.
"Being a father and a mother is above all about taking care and fulfilling tasks. I feel sure that for this child the possibility of happiness will be very great," the judge said.
The baby's birth certificate bears the name of two mothers, a father and six grandparents.