Brazil's Corinthians football club tell fans to end abuse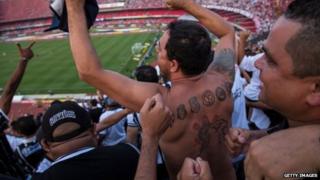 Brazilian football club, Corinthians, have appealed to fans not to shout insults at arch-rivals, Sao Paulo.
The fans have previously targeted the goalkeeper of Sao Paulo, who they play on 21 September, with homophobic abuse as he takes goal kicks.
Earlier this month Brazil's sports tribunal threw the southern club, Gremio, out of the Brazil Cup because of racist abuse shouted by fans.
The tribunal has said it will no longer tolerate abusive language.
On its website, Corinthians published what it described as a club "manifesto" which called for the end of racist and homophobic abusive language.
"Homophobia as well as going against the principle of equality which lies deep in Corinthians' DNA, can also damage the club."
The secretary general of Brazil's sports justice tribunal, Paulo Schmitt, said: "I hope all clubs will pay more attention to this issue from now on. I will be. Abusive chants can end in clubs being punished."
Monkey chants
The punishment of Gremio was unprecedented.
The Porto Alegre club was barred from competing in Brazil's main cup competition and was fined 50,000 reais ($20,000) after monkey chants at Santos goalkeeper, Aranha.
The incident was the latest in a series of similar events at matches across Brazil.
On Friday, the house of one of the Gremio fans caught on camera during the Santos match making monkey noises was burnt down by arsonists.
The fan, 23-year-old Patricia Moreira, was not at home at the time.
She lost her job after the incident and was heavily criticised on social media sites.
Correspondents say Corinthians' officials are concerned they could be targeted next by the sports tribunal if their fans do not behave.
Corinthians have the second largest fan base in Brazil with around 25 million supporters across the country.