Brazil corruption: Rio police arrested over 'extortion racket'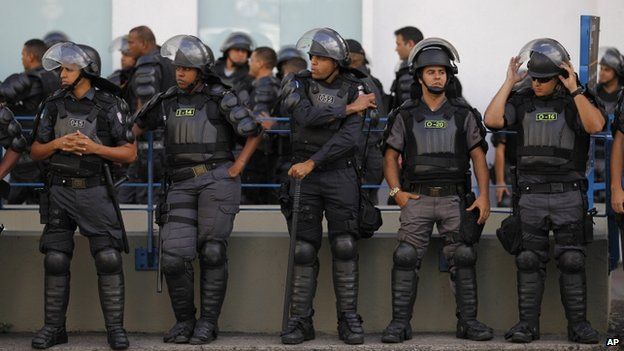 Police in Rio de Janeiro have arrested 22 of their own officers for alleged involvement in a bribery and extortion racket.
Among those arrested was the third-in-command of the city's military police, Colonel Alexandre Fontenelle Ribeiro.
Col Ribeiro is the chief of special operations and leads the city's shock troops.
Search warrants have been issued for a number of other officers and a large amount of cash has been seized.
City public prosecutors said in a statement that senior police officers at the 14th Battalion in Bangu, in the west of Rio, had demanded payments from shopkeepers, motorbike taxis, private van and bus companies.
The payments were between $12 (£7) and $1,000 and were collected either on a daily, weekly or monthly basis. The payments protected their victims from being charged for legal infractions.
Prosecutors said: "The 14th Battalion had virtually been transformed into a limited company where the 'profits' were deposited with 'the administration' or handed over to the senior officers who abused their power over their subordinates and over Battalion strategy and activity."
The statement said the prosecutors had obtained their information about the racket from witness statements and from monitoring phone taps.
Those arrested face jail sentences of between two and six years.