Chile police arrest three over Santiago subway bomb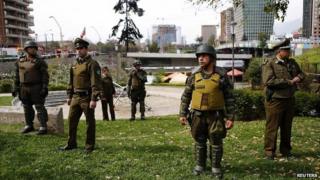 Officials in Chile say they have arrested three people thought to be behind a bomb attack in the capital Santiago.
The bombing, earlier this month, targeted a shopping centre connected to a subway station and injured 14 people.
Interior and Security Minister Rodrigo Penailillo said police had arrested two men and a woman.
The attack is one of the worst since democracy was restored in 1990.
There have been around 200 bomb attacks in Santiago in the past decade, with anarchist groups claiming responsibility for many of them.
No one admitted carrying out the latest attack.
Police said the homemade explosive device went off on 8 September at lunchtime in an underground shopping area at the Escuela Militar station.
Officials said about 150,000 people pass through the station daily.
Chilean President Michelle Bachele called the attack a "terrorist act, one of the most cowardly we have seen".
The police operation that led to the arrests in the La Pintana neighbourhood of the capital comes as two days of celebrations get under way for Chile's independence day.