Former El Salvador leader Francisco Flores in police custody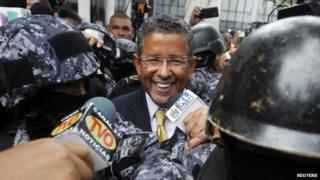 Former El Salvador President Francisco Flores has been transferred to police custody, after a court in San Salvador revoked his house arrest.
Mr Flores has been charged with corruption, accused of misappropriating more than $15m (£9m) in aid money given by Taiwan.
The former president, who was in office between 1999 and 2004, denies the charges.
He handed himself in two weeks ago after four months on the run.
A judge in San Salvador put him under house arrest, which sparked demonstrations outside his home.
Hundreds of people gathered to demand that he be transferred to a prison.
Mr Flores, from the conservative Arena party, says the charges are politically motivated.
'Renegade province'
He said that he had asked Taiwan for donations on three occasions.
The first time, he said, it was to help reconstruction efforts after two earthquakes killed about 1,500 people in 2001.
Another time he had asked Taiwan for help in combating drug trafficking, and a third donation was to fight crime and gangs, he explained.
El Salvador's congress, as well as the attorney general, opened investigations against him.
His successor as president, Mauricio Funes, said the United States was investigating suspicious transfers into his bank accounts.
Another former Central American leader is facing an inquiry into his dealings with Taiwan.
Alfonso Portillo, president of Guatemala from 2000-2004, told a court in New York in March that he had accepted $2.5m (£1.5m) in bribes from Taiwan.
Portillo pleaded guilty to one count of conspiracy to launder money and agreed not to appeal against any prison sentence between four and six years.
He said he had taken the money in exchange for a promise that his country would continue to recognise Taiwan diplomatically while he was in office.
Guatemala and El Salvador are among the few countries in the world with diplomatic relations with Taiwan, which China regards as a renegade province.