Mexico's Sonora state reports new mine spill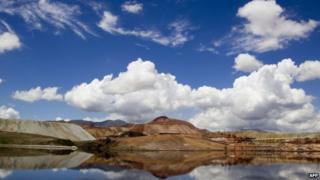 The Mexican authorities have issued a new alert about a toxic spill into a river from a copper mine run by the mining giant Grupo Mexico.
Officials in the northern state of Sonora asked people not to use water from the Bacanuchi river after an orange stain appeared in it.
On 7 August gallons of sulphuric acid poured into the river.
At the time local officials accused the company of trying to conceal the accident and of lax supervision.
The chemical, which is used to dissolve copper from ore, turned a 60km (40-mile) stretch of the Sonora River orange, causing the authorities to shut down the municipal water supply to 20,000 people in seven towns.
Following the reports of a new spillage, the mining company said a storm overflow after heavy rains had caused a new leak.
Grupo Mexico said in a statement the company had contained it with pumps and suction.
On Friday, the Sonora state civil protection agency said it was ending its relationship with the mining company because it was continuing to discharge toxic substances into the river.
The company has denied the accusations and has set up a $150m trust to pay damages.
It says it has also been conducting a major clean-up operation.
More than a quarter of Mexico's mining activity is located in the north-western region, making it the country's top producer of gold, copper and graphite, according to the AFP news agency.