Kidnapped Mexican Congressman Gabriel Gomez killed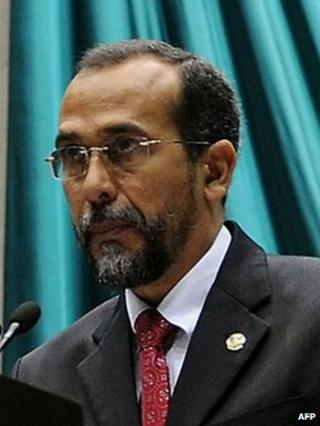 The Mexican authorities say one of two burned bodies found in a car in the central state of Zacatecas is that of a federal Congressman abducted on Monday.
Gabriel Gomez Michel, a member of the Chamber of Deputies for the governing PRI party, had been kidnapped south of the city of Guadalajara.
Prosecutors said the second body was that of Mr Gomez's driver, Heriberto Nunez Ramos.
PRI politicians said they suspected a criminal gang was behind the murder.
Local politicians are often targeted by Mexican drug cartels, but the murder of politicians at a federal level is more rare.
Mr Gomez, 49, was a paediatrician who served as the mayor of the town of El Grullo in Jalisco state from 2010 to 2012.
He went on to be elected as representative for the 18th district in Jalisco state for the ruling PRI party.
In 2011, another federal Congressman, Moises Villanueva, was killed in Zacatecas.
Police said that killing was ordered by a political rival rather than organised crime.
Jalisco is the stronghold of a criminal gang calling itself the Cartel Jalisco Nueva Generacion and the state has seen a spate of killings blamed on the group.
Last month, the mayor of the town of Ayutla was shot dead by unidentified gunmen.