Paraguay bishop Livieres sacked over 'abuse cover-up'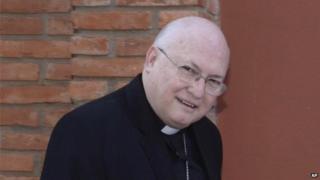 Pope Francis has sacked a Paraguayan bishop who has been accused of protecting a priest suspected of sexually abusing young parishioners.
The Vatican said that "the Holy Father has decided to replace Monsignor Rogelio Livieres Plano" as bishop of Ciudad del Este.
It is the second time in a week that Pope Francis has taken disciplinary action over clerical sex abuse scandals in Latin America.
He has promised "zero tolerance".
Two days ago, the Pope ordered the arrest of a senior Vatican diplomat, Jozef Wesolowski, accused of the sexual abuse of children during a posting to the Dominican Republic.
'Painful decision'
The Vatican statement only referred to the reasons behind the sacking of the Right Reverend Livieres Plano as a "painful decision taken for serious pastoral reasons".
It also said that the move followed a Vatican investigation of the bishop, the diocese and its seminaries.
The BBC's David Willey in Rome says that the Rt Rv Livieres Plano has been at the centre of a local dispute over the promotion of an Argentine priest accused of inappropriate sexual behaviour.
Our correspondent says that Pope Francis has insisted there be no privileges for bishops when it comes to sex crimes against children.
The Rt Rv Livieres Plano is a member of the conservative Opus Dei movement and is reported to have clashed with more progressive members of his diocese.
Church prosecutors have dealt with some 3,500 abuse cases worldwide during the past decade.
Pope Francis has pledged a crackdown on clerics and employees of the Church who exploit minors, comparing their actions to a "satanic mass".