Venezuelan leader Nicolas Maduro defends Clorox seizure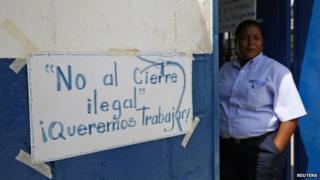 Venezuelan President Nicolas Maduro has defended the seizure of a factory owned by US-based company Clorox.
"Socialist formula: any company that's abandoned will be taken over by the working class," Mr Maduro said.
Cleaning products maker Clorox closed its production facilities in Venezuela last week, saying government-imposed price freezes were crippling it.
The Venezuelan authorities have accused Clorox of illegally abandoning the country and have seized its facilities.
'Economic war'
"The legal documents in various government and judicial institutions demonstrate the abandonment of their legal and constitutional responsibilities," Mr Maduro said.
He said the closure of the plant was part of an "economic war" being waged against the socialist government by the opposition.
He warned the working class to be "alert to this new madness".
Clorox, which sells bleach and other household cleaning products in Venezuela, announced in a statement on 22 September that it would cease its operations there immediately and try to sell its assets.
It cited as its reason government price controls on its products, which it said had led to millions of dollars in losses.
The statement said that for nearly three years, the company had had to sell more than two-thirds of its products at fixed prices which did not cover its production costs, which had been driven up by skyrocketing inflation.
It also said recent price increases "were nowhere near sufficient".
Venezuela earlier this month announced that its annual inflation rate had reached 63.4%.
Seizure
On Friday, Venezuelan officials announced the temporary seizure of the Clorox facilities.
But after the company warned that the seizure could pose risks for workers, Venezuelan Vice-President Jorge Arreaza said the government would not rush its re-opening.
"We are going to make a plan to reactivate the factory, we cannot make hasty decisions," he said.
A number of multinational companies, including international airlines, have complained of the damage they say they are being caused by Venezuela's currency controls and high inflation. Airlines have scaled back flights to the county.