Panama opens Frank Gehry-designed biodiversity museum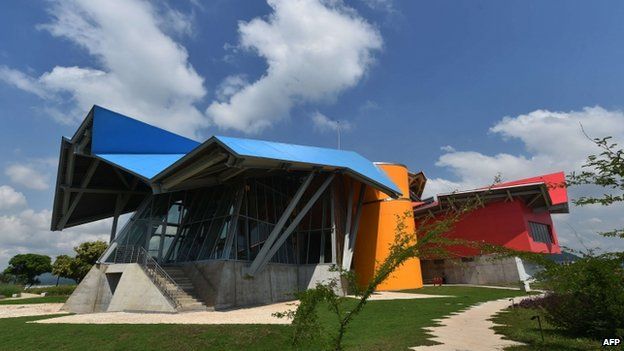 Panama has inaugurated a museum designed by the world-renowned Canadian-born architect Frank Gehry - his first in Latin America.
The Biomuseo has been built at the entrance from the Pacific ocean to the Panama Canal.
It bears Gehry's trademark metallic curves and canopies, made famous by the Guggenheim Museum in Bilbao, in Spain.
The museum celebrates the history of the Central American isthmus as one of the world's richest ecosystems.
The isthmus has more bird, mammal and reptile species than the United States and Canada combined.
The museum will trace Panama's natural history back to its geological formation. A walk through the galleries will be accompanied by the sound of tropical animals.
The skull of an extinct giant sloth found in 1949 in Panama will help explain the central American isthmus's rich pre-history.
At the official opening on Tuesday, Panamanian President Juan Carlos Varela said the museum would lead to a better understanding of Panama's national identity.
The museum opens to the public on Thursday.
The project has been plagued by delays and cost overruns since it was first conceived in 1999.
Related Internet Links
The BBC is not responsible for the content of external sites.