Mexico charges troops with murder of 'gang members'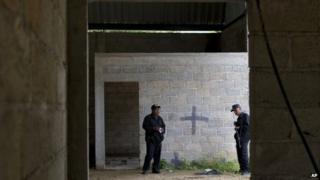 Mexico's attorney general has charged three soldiers with murder for their role in a shootout in late June in which 22 suspected gang members were killed.
Jesus Murillo said the soldiers opened fire "without any justification whatsoever".
The soldiers were among a group of eight held after the incident in Tlatlaya in the state of Mexico.
At the time, the authorities said the victims were members of a drug cartel.
The arrests came after a witness said many victims were killed in cold blood.
The victims were alleged to be members of a criminal organisation called La Familia Michoacana, which is active in the southern part of Mexico state.
The army had said they died in a fire fight, but suspicions were later raised as only one soldier was injured.
Some of the bodies of the victims appeared to show bullet wounds at chest level, suggesting they had not been killed in a shootout.
Witnesses then said only one person died in the initial confrontation - the others were killed after surrendering to soldiers, our reporter says.
Last week seven soldiers and their commander were charged with military disobedience and breach of duty related to the incident.
The confrontation happened on 30 June in the village of San Pedro Limon, about 240km (150 miles) south-west of the capital, Mexico City.
Spike in violence
President Enrique Pena Nieto has promised to review the war on drugs policy of his predecessor, Felipe Calderon.
Critics said Mr Calderon's decision to deploy the armed forces to combat the powerful drug cartels in December 2006 had led to a sharp increase in violence.
At least 60,000 people are estimated to have been killed in drug-related violence during his six-year term.
Despite that criticism, Mr Pena Nieto's government has continued to fight the gangs.