Obituary: Jean-Claude 'Baby Doc' Duvalier, Haiti's former 'president for life'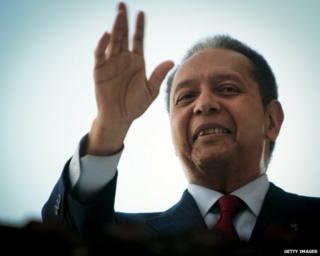 Jean-Claude "Baby Doc" Duvalier, who has died of a heart attack aged 63, was just 19 when he inherited the title of president-for-life from his father, Francois or "Papa Doc", who had ruled Haiti since 1957.
Like his father, he relied on a brutal militia known as the Tontons Macoutes to control the country.
In 1986 he was forced from power by a popular uprising and US diplomatic pressure, and went into exile in France.
He returned in 2011, apparently having seriously misjudged how the country would receive him, and was charged with embezzlement and misuse of funds during his rule. He denied all the charges and his case stalled some time ago.
The former president was allowed to live in the obscurity of a Port-au-Prince suburb, freely roaming the capital as he pleased until his death.
Haiti has struggled to create stable democratic governments after his and his father's misrule.
Popular unrest
Papa Doc first came to power in 1957, when he is said to have won free and fair elections, but he became increasingly authoritarian and in 1964 declared himself president for life.
By the early 1970s Papa Doc's health was failing and he had the National Assembly declare that his son Jean-Claude should take over, also as president for life.
Handed the presidency at age 19, Mr Duvalier made some attempts to modernise and reform the Haitian state but his rule was as arbitrary and authoritarian as his father's, and he was known to be greatly influenced by his mother, Simone Ovide Duvalier.
In the end, he proved so inept at resolving Haiti's deep-seated problems of extreme poverty, lack of investment and employment opportunities that there were constant outbreaks of popular unrest.
In February 1986 the armed forces toppled him in a bloodless coup supported by the vast majority of Haitians.
Baby Doc went off to live in exile in the south of France.
He lost most of his wealth following a bitter divorce in 1993, and some $6m he held in Swiss bank accounts was frozen in 1986.
In the later years of his exile, Mr Duvalier depended on financial support from his followers, living in a small Paris apartment.
Mr Duvalier and his father were accused of siphoning off up to $300m (£187m) during their time in power, although there is no accurate record of this.
The money said to have been embezzled came from state-run concerns such as the Regie du Tabac, the tobacco business, and taxes on rum exports.
But human rights groups within Haiti and internationally pressed for Baby Doc to also stand trial for the widespread human rights abuses committed during his rule.
Exact details are difficult to prove, but it has been estimated that between 20,000 and 30,000 Haitians were killed by the security forces or the Tontons Macoutes during the Duvaliers' rule.