Mexico arrests four over congressman Gomez Michel murder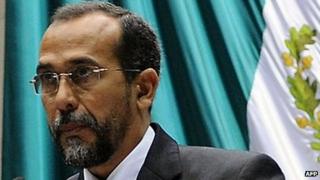 Police in Mexico have arrested four men in connection with the recent killing of governing PRI party congressman Gabriel Gomez Michel.
The men were arrested in the western state of Jalisco. Police released no further details.
Mr Gomez Michel, 49, and his driver were abducted in broad daylight on a motorway leading to Jalisco airport on 22 September.
Their bodies were found a day later in the boot of their burnt car.
The authorities have so far not established a motive for the killings.
Politicians from his party said they suspected a criminal gang was behind the murder.
Local politicians are often targeted by Mexican drug cartels, but the murder of politicians at a federal level is more rare.
Mr Gomez was a paediatrician who served as the mayor of the town of El Grullo in Jalisco state from 2010 to 2012.
Jalisco is the stronghold of a criminal gang calling itself the Cartel Jalisco Nueva Generacion and the state has seen a spate of killings blamed on the group.
The car with the bodies of Mr Gomez Michel and driver Heriberto Nunez Ramos was found in neighbouring Zacatecas state.