Reynaldo Bignone: Argentina ex-ruler gets fresh sentence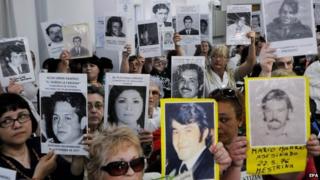 An Argentine court has sentenced the country's last military ruler for the kidnap and torture of more than 30 factory workers during what was known as the Dirty War.
Reynaldo Bignone, who ruled from 1982 to 1983, was sentenced to 23 years.
The 86-year-old is already in jail serving a life sentence for crimes against humanity.
About 30,000 people were killed or disappeared under Argentina's military rule from 1976 to 1983.
'Bittersweet sentence'
The court also sentenced three other former members of the military, a former member of the coastguard and a former police officer in what has been dubbed as the "workers' trial".
The victims, most of them trade union activists, worked at shipyards and ceramics factories north of the capital, Buenos Aires.
According to prosecution lawyer Ciro Annicchiarico, they were "persecuted for their militancy in the union".
Mr Annicchiarico said the aim was to crush any trade union demands, to the financial benefit of the private sector.
He said that the trial had also brought to light the complicity of the firms which, he said, had singled out the trade union activists who would later become victims of state repression.
The trial, which started in July, examined the cases of 60 workers, 28 of whom were kidnapped and tortured and 32 disappeared.
The prosecution lawyer said the trial left a "bitter-sweet taste" because three of the accused were found not guilty, a verdict he said he would appeal against.
Bignone is already serving a life sentence for the kidnap and murder of left-wing militant Gaston Goncalves and former congressman Diego Muniz Barreto.
He was also found guilty in 2012 of overseeing the systematic theft of babies from political prisoners.
The crimes were part of the Dirty War, a brutal plan to silence the left-wing opposition in the country during the 1970s and 80s which included kidnapping, torturing and killing opponents, and handing their children to supporters of military rule.