Mexico missing students: New mass graves found in Iguala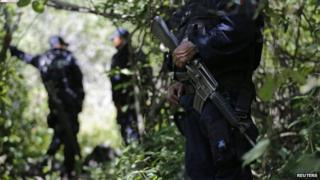 Four more mass graves have been found near the southern Mexican town of Iguala, where 43 students went missing last month, officials say.
There is no word on the number of the bodies discovered in pits on Thursday.
The discovery came during a huge operation to find the students, who disappeared after clashing with police.
They were last seen being bundled into vehicles. Last week 28 burnt bodies were found in six shallow graves, but have yet not been identified.
Forensic tests are expected to take weeks.
Federal Attorney General Jesus Murillo Karam said the new graves also contained burnt bodies and are in the same area as the first set of graves.
He said the security operation in Iguala, in Guerrero state, had resulted in the arrest of 34 people - mostly local police.
He said a formal search had now been launched for the town Mayor, Jose Luis Abarca Velazquez, as well as his wife and head of security. They went on leave after the clashes and have not appeared.
The students were holding a protest over hiring practices when they clashed with police on 27 September.
A number of theories about the reasons for their disappearance have been put forward.
The students all went to a local teacher training college with a history of left-wing activism, but it is not clear whether they were targeted for their political beliefs.
Some think that they may have angered a local drug gang called Guerreros Unidos by refusing to pay extortion money.
Others believe there may be a link between the students' disappearance and a speech given by the wife of Iguala's mayor on the day of the clashes.
She was speaking to local dignitaries in Iguala on the day the incident occurred and some believe the students may have been targeted because it was feared they could disrupt the event.