Two arrested over Venezuela lawmaker Robert Serra murder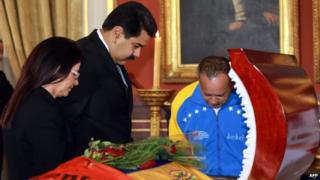 Venezuela's supreme court says two people have been arrested on suspicion of killing Robert Serra, a lawmaker from the governing PSUV party.
The socialist member of the National Assembly and his partner, Maria Herrera, were stabbed to death earlier this month at Mr Serra's home in the capital, Caracas.
Mr Serra was a rising star in the party known for his passionate speeches.
Venezuela has the second highest murder rate in the world, according to the UN.
'Planned attack'
In a statement, the supreme court named the suspects as Eduwin Torres and Carlos Garcia, but did not give any further details about who they were or their possible motive for allegedly killing Mr Serra.
The court's statement did not say whether the suspects had denied the allegations. If convicted, they could face up to 30 years in jail.
Government officials said evidence suggested the murder had been planned and was not a robbery gone wrong.
President Nicolas Maduro has blamed opposition groups in Venezuela and elements in neighbouring Colombia for Mr Serra's murder.
He said that "terrorist groups encouraged by sectors of Venezuela's ultra-right and Colombian paramilitary groups are behind this [effort] to bring violence to our country".
'Search for truth'
The president also said that "sooner or later, however long it may take and however much we may suffer, we will discover the truth" of what happened to Mr Serra.
According to United Nations' figures, Venezuela has the second highest peacetime murder rate in the world after Honduras.
Correspondents say that despite a series of measures introduced by the government to combat crime, the perception of insecurity among Venezuelan citizens remains high.
Earlier this year, many took part in a series of mass anti-government protests demanding increased security as well as measures to improve the economy.