Brazil police break up illegal abortion ring, arrest 47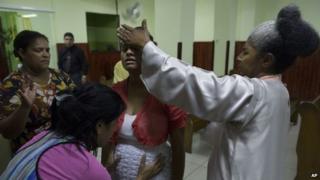 Police in Brazil have broken up an illegal abortion network operating in the Rio de Janeiro area.
Forty-seven people were arrested as part of Operation Herod, which followed the deaths of two Brazilian women who had illegal abortions.
Police arrested its suspected leader, Dr Aloisio Soares Guimaraes, and issued a further 28 arrest warrants.
Abortion is only legal in Brazil in cases of rape, brain abnormalities or if the mother's life is at risk.
About 2,000 women are believed to have used the abortion clinics, paying up to 7,500 reais ($3,100; £2,000) for the procedure.
The countries of predominantly Roman Catholic Latin America have some of the toughest anti-abortion laws in the world.
Human rights groups and medical associations in Brazil have called for abortions to be legalised in more cases than the law currently allows.
A 2010 survey suggests as many as one in five Brazilian women has had an abortion before the age of 40.
Facing prison
Police said the illegal abortions were performed in "unsanitary places (...) putting the physical integrity and health of the patients at risk".
The investigation lasted 15 months before arrests were made on Tuesday. Those detained include six police officers, three doctors and a firefighter.
The deaths of two women who sought abortions made headlines recently in Brazil.
In August, the body of Jandira Magdalena dos Santos, 27, was found burnt in a car in Rio following a botched termination - nine people were later arrested.
A month later, Elizangela Barbosa, 32, died following an abortion, also in the Rio area. A plastic tube had been left in her stomach.
Human rights groups argue that the current rules pose a risk to women determined to get an abortion.
Women and girls who violate the ban in Brazil face lengthy jail sentences.
The country boasts a growing evangelical movement which is deeply opposed to a change in the abortion laws.
---
Latin America's abortion laws
Abortion is completely banned in seven countries - El Salvador, the Dominican Republic, Nicaragua, Chile, Honduras, Haiti and Suriname
Only Cuba, Guyana, Puerto Rico and Uruguay allow abortions beyond cases of rape, incest or threats to a woman's health
In 2012, Uruguay's Congress voted to legalise abortions during the first 12 weeks of pregnancy
In Mexico, only Mexico City has legalised abortion, during the first 12 weeks
The estimated annual number of abortions in Latin America increased slightly between 2003 and 2008, from 4.1 million to 4.4 million, but the rate per 1,000 women remained steady
95% of abortions in Latin America from 1995-2008 were considered to be unsafe
Sources: World Health Organisation, Guttmacher Institute
---