Missing Mexican students 'not found in mass grave'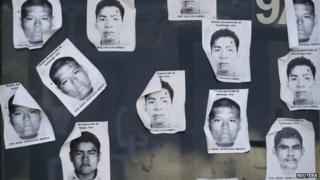 Mexico's attorney general says DNA tests have shown that 28 bodies found in a mass grave are not those of a missing group of students.
Jesus Murillo Karam said further tests were being carried out on four other recently discovered grave sites.
The 43 students went missing three weeks ago amid violent protests in Iguala, south of Mexico City.
Mr Karam said 14 more police officers had been arrested, accused of handing the students over to a drugs gang.
About 50 people have been arrested in connection with the students' disappearance, with the vast majority being local police officers.
The officers are believed to have been working for a drugs gang, known as the Guerreros Unidos.
On Tuesday, police said the gang's leader, Benjamin Mondragon, had killed himself when he was about to be arrested during an operation by Mexican security forces in the state of Morelos.
The missing students all attended a teacher training college in Iguala, some 200km (125 miles) south of Mexico City.
The college has a history of left-wing activism but it is not clear whether the students were targeted for their political beliefs.
Renewed hope
They disappeared after deadly clashes with the police on 26 September in which six people died. Eyewitnesses reported seeing them being bundled into police vans.
Will Grant, the BBC's Mexico correspondent, says confirmation the missing students were not found in mass graves will give their families renewed hope.
Many of the families are camped out in Iguala waiting for answers from the local authorities.
On Monday, crowds of fellow students and teachers from the teaching college set fire to Guerrero state headquarters in the city of Chilpancingo.
They are angry at a perceived lack of progress in the investigation and have called for state governor Angel Aguirre to resign.
Mexican President Enrique Pena Nieto has vowed to find and punish those responsible for the disappearances, saying the incident was "shocking, painful and unacceptable".