Brazil police crack 'darknet' in child pornography crackdown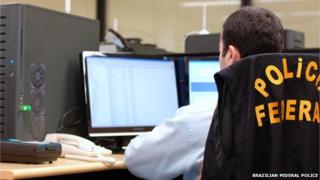 Brazilian police have uncovered a huge child pornography network hidden in the 'darknet' - a virtual world not visible to most internet users.
A Brazilian police spokesman said they arrested 55 people during a year-long operation and issued 100 arrest warrants.
Operation "Darknet" found child pornography made in Brazil being shared in five other countries.
Police found suspects in Portugal, Italy, Colombia, Mexico and Venezuela.
Only the FBI in the United States and Scotland Yard in London have managed to crack into the Dark Web to trawl for pornography before and Brazil has been following their techniques, police said.
The operation was launched simultaneously in 18 Brazilian states and the federal district of Brasilia.
The police said during the operation they had rescued six children from abusive situations in various places across the country.
The BBC South America correspondent says governments across Latin America are beginning to address the problem of child sexual exploitation.
Earlier this week Colombia broke up a child-trafficking operation in which it was thought that children as young as 12 were being smuggled out of the country for sex.
Several people were arrested.