Rousseff 'dizziness': Brazil president 'in good health'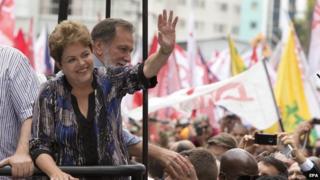 Brazilian President Dilma Rousseff says she is in good health after a bout of dizziness at the end of a TV debate.
She was debating policy with her opponent in the presidential run-off vote on 26 October, Aecio Neves.
Latest polls say the two candidates are running neck and neck in what has become an increasingly bitter campaign.
After the debate, Ms Rousseff issued a video on social media looking upbeat and saying she had experience a bout of low blood pressure but had recovered.
She had appeared live on air after the debate, fumbling her words and saying she felt dizzy and had to sit down.
"I think a debate demands a lot from people, so that is what happened to me. Now I am feeling better and can conclude my interview and apologise to the viewer but that is how it is," she said on air.
During the debate, Ms Rousseff accused her opponent of nepotism. Mr Neves, hit back saying officials in the President's Workers Party were implicated in a huge corruption scandal involving the state oil company, Petrobras.
President Rousseff's doctor said she had not eaten enough, and it was not necessary to give her a medical examination.