Mexico students: Guerreros Unidos gang leader 'arrested'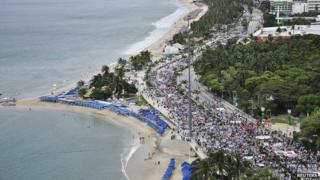 Mexican authorities say they have captured the suspected leader of a criminal gang allegedly involved in the disappearance of 43 students.
Sidronio Casarrubias Salgado is said to be the main leader of the Guerreros Unidos (United Warriors) gang.
The students, from a teaching college near Iguala in western Guerrero state, were last seen being bundled into police vehicles three weeks ago.
It came during clashes with police during a demonstration.
There have been demonstrations in support of the students across Mexico.
Mexico's attorney general Jesus Murillo Karam said the arrest would open up new lines of investigation into what had happened to the students.
He added that 36 police officers and 27 members of Guerreros Unidos had already been arrested.
The mayor of Iguala, Jose Luis Abarca, is also being sought by police on organised crime charges along with his police chief.
The congress in the state of Guerrero has impeached the mayor.
On Friday, thousands of protesters marched in the city of Acapulco on the Pacific coast of Guerrero state demanding the safe return of the students and in support for their families.
Chanting "they took them alive, we want them back alive", the protesters called for the resignation of Guerrero state governor Angel Aguirre over his handling of the case.
On Monday, students and teachers set fire to part of Guerrero's state government headquarters.
They have also threatened to take hold of all 81 municipal offices in Guerrero state. So far, they have taken over four.
The discovery of graves around the town of Iguala has raised concerns about the students' fate.
DNA tests showed they were not among 28 bodies found in one location, but other graves are being analysed.
More than 1,200 federal police have been deployed to look for the students in and around Iguala.