Mexico offers rewards for information on missing students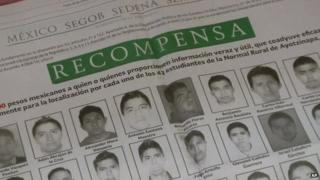 The Mexican government has offered rewards for information on the whereabouts of 43 students who disappeared more than three weeks ago.
The 43 from a teacher training college in the town of Ayotzinapa went missing after deadly clashes with the police.
In newspaper advertisements the government said it would pay 1.5 million pesos ($110,000, £68,000) for information about the students.
Thirty-six police officers are being questioned over their disappearance.
Deadly clashes
The rewards apply to information leading to their whereabouts or the identification of those behind their disappearance.
Eyewitnesses recounted how they saw the 43 being bundled into cars by municipal police officers on 26 September near the town of Iguala, in Guerrero state.
The students had travelled to Iguala to protest and raise funds for their college.
Police opened fire on the students' buses as they were travelling back to Ayotzinapa. Six people, three of them students, were killed in the shootings.
The 43 were declared missing in the following days.
Municipal police officers arrested in connection with the clashes reportedly confessed to handing the students over to a local drug gang calling itself Guerreros Unidos (United Warriors).
No match
Nineteen burial pits have been found in the hills surrounding Iguala since, some of them following tip-offs by those in custody.
So far, forensic tests have been carried out on 28 bodies, but they showed they were not those of the students. The identity of the bodies remains unclear.
Test are still under way on the remaining bodies and the search for the students continues.
On Monday, Jesus Pena Palacios of the United Nations Office of the High Commissioner for Human Rights said what had happened to the students could be described as a "forced disappearance".
"Without any doubt the forced disappearance of these youngsters and the killing of the six [in the clashes] is a grave violations of human rights," he added.
He also urged the Mexican government to use all tools at their disposal to expedite the search for the missing students.