Ebola West Africa: Cuba leads way on medical effort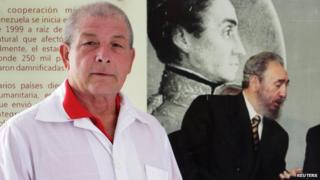 Cuba has sent a second group of medical staff to West Africa to help fight the Ebola outbreak.
The 83 doctors and nurses will treat Ebola patients in Liberia and Guinea.
Another contingent of 165 Cuban healthcare professionals travelled to Sierra Leone a few weeks ago.
Cuba is now the biggest single provider of healthcare workers to the Ebola crisis in West Africa, more than the Red Cross or richer nations, the World Health Organization says.
"Cuba has provided the numbers and the people," said Jose Luis Di Fabio, the WHO representative on the Caribbean island.
"There are more human resources from Cuba than from many, many NGOs [non-governmental organisations] put together."
The epidemic has killed more than 4,500 people in West Africa.
'We must act'
The Red Cross, which is trying to tackle Ebola in Sierra Leone, has said the scale of the outbreak is so bad that it is having to retrieve more than 100 corpses a day.
"We cannot see our brothers from Africa in difficult times and remain there with our arms folded," the Cuban Ambassador to Liberia, Jorge Lefebre Nicolas, told Reuters news agency.
A jet from the national airline Cubana carrying 51 medical personnel touched down on Wednesday morning at the Roberts International Airport outside the Liberian capital, Monrovia, Reuters reports.
Cuba has been praised for its response to the Ebola crisis, including by the United States.
Despite America's frosty relations with the Communist island, US Secretary of State John Kerry cited Cuba as an example of a small nation which sent more than larger, richer states.
Its response has also won plaudits from humanitarian workers who say the international community's reaction has been lacking.
The BBC's Will Grant in Cuba says that, for President Raul Castro, this has also been an opportunity to build on the island's long-standing tradition of humanitarian aid to Africa.
The president shook the hands and embraced the 83 doctors and nurses who waved Cuban flags as they boarded the plane for West Africa, our correspondent adds.
More Cuban medics have been trained to travel there.