Chilean parents march against President Bachelet's education reform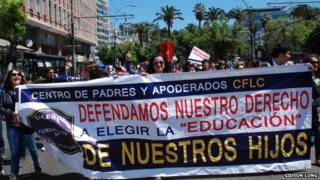 Tens of thousands of parents in Chile have marched in the capital, Santiago, in opposition to the government's planned education legislation.
They claim around 4,000 subsidised schools will close.
Chile's government says the changes are designed to stop schools that receive public money from making a profit.
The BBC's Gideon Long in Santiago says the protest is something of a backlash to the big demonstrations by students of recent years.
They have been demanding free, quality education for everyone and an end to Chile's highly-privatised school and university system.
The government of President Michelle Bachelet heeded that call, he adds, and sent the radical education bill to Congress.
It has tried to explain that the reform would not close subsidised schools but wants to promote transparency with the use of public money.
'Keep middle ground'
But the parents say the bill will force them to send their children to state schools, where education is often poor, or to private schools they can not afford.
Chile's Confederation of Parents and Guardians (Confepa), which organised the latest march, says many subsidised schools would close because they would no longer be able to charge top-up fees to students.
"We propose some action against the education abuses that are driven by profit, but our children's subsidy should not be affected," the president of Confepa, Ericka Munoz, told the AFP news agency.
Confepa groups together middle-class parents who can afford to send their children to subsidised schools.
The organisation, which has been protesting for weeks across Chile, says it wants to maintain the right to continue a compromise whereby schools that receive public money can also raise funds from students.
'Unfair'
Since 2011, Chile has seen large-scale protests led by a powerful student movement.
High school and university students see Chile's education system, traditionally viewed as the best in Latin America, as profoundly unfair.
They say middle-class students have access to some of the best schools while the poor have to be content with under-funded state ones.
In her victory speech last year, President Bachelet promised to carry out a "thorough reform programme".
She campaigned on a promise to spend $15bn (£9.2bn) to offer free education, improve health care and reduce income disparity.