Mexican President Pena Nieto meets missing students' families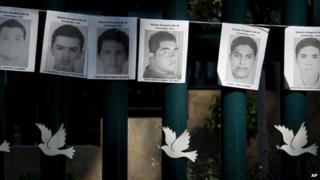 Mexican President Enrique Pena Nieto has met the families of 43 students who went missing last month.
They travelled to Mexico City from the state of Guerrero, where the students disappeared after clashing with police.
During several hours of talks, the families, angry at the official response, made 10 key demands.
The president promised "a renewed search plan" to ensure the perpetrators were brought to justice. So far, 56 people have been arrested.
Among them are police officers, local officials and alleged members of drugs gangs.
After the meeting, President Pena Nieto said that among the points agreed were that a panel of officials and parents be set up to provide information about the investigation and that better support would be provided to the relatives of the missing.
But the families said they were losing faith in the authorities' ability to tackle the case.
"We told the president we don't trust your government," said one who attended the meeting.
"The promises aren't enough", said Meliton Ortega, father of one of the students.
"The results will be significant when they return our children to us alive."
Before seeing the president, the parents also met Mexico's Interior Minister Miguel Angel Osorio Chong and Attorney General Jesus Murillo Karam.
The disappearances have shocked Mexico and sparked nationwide demonstrations, with thousands of people on the streets to demand they be found.
The state governor of Guerrero has been replaced after he resigned over the case.
Arrest warrants
Federal police are using boats and divers to scour the beds of several rivers near Iguala, where the abductions took place.
A manhunt also continues for Jose Luis Abarca, the mayor of the town of Iguala who is believed to be on the run.
Arrest warrants have also been issued for his wife and the police chief. They are also fugitives.
The mayor allegedly ordered the police to intercept the students, who were protesting, to prevent them from interrupting a speech his wife was giving in Iguala on 26 September.
Eyewitnesses say they saw the students being bundled into police cars after the police shot at buses carrying the students, killing three of them and three other people in nearby vehicles.
The prosecutor said gang members then loaded them onto a lorry and took them to Pueblo Viejo.
Mass graves have been found there, laying bare the extent of the rampant killings in the region, which law enforcement officials blame on ongoing drug-related violence.
Forensic tests initially suggested 30 bodies found there were not those of the students, but Argentine forensic experts flown in to help with the investigation have been carrying out further tests on all the bodies.