Complaints in Colombia over Prince Charles plaque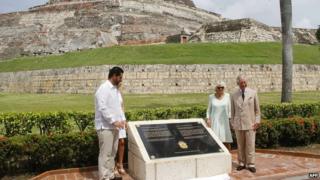 A plaque unveiled by the Prince of Wales in the Colombian coastal city of Cartagena has drawn complaints over its reference to a siege on the city by a British admiral and his troops in 1741.
Admiral Edward Vernon was defeated after two months of confrontation.
Local journalists and writers said the plaque glorified colonial warfare and commemorated an attack by invaders whom they described as "English pirates".
A city spokesman said the plaque was aimed at attracting English tourists.
But locals also questioned why no public consultation had taken place.
Oscar Collazos, who lives in Cartagena, said through social media the plaque "paid homage to fallen English pirates, God save our city!".
One tourist guide, Hernando Marrugo, interviewed in a local newspaper, said: "The mayor has a nerve to commemorate the deaths of 10,000 English troops in 1741.
"These men intended taking Cartagena and massacring our ancestors. It makes me feel bad showing the plaque to the tourists."
But a member of the body which manages Cartagena's historic centre, Sabas Pretelt de la Vega, told local paper El Heraldo: "We are not only paying homage to the fallen English troops but also to the people of Cartagena who lost their lives."
Mr Pretelt said that many English cruise ships were visiting Cartagena so tourists could see where the historic event had taken place.
The siege took place as part of the War of Jenkins' Ear which lasted from 1739 to 1748.
The conflict between Britain and Spain was named after Captain Robert Jenkins, a merchant sailor whose ear was severed by a Spanish coastguard.
Prince Charles and the Duchess of Cornwall have begun the second stage of their Latin American tour and are now in Mexico.
The Siege of Cartagena
Admiral Edward Vernon arrived at Cartagena on 13 March 1741
He headed a powerful flotilla of 186 ships carrying around 28,600 troops. His orders were to take the city
He faced Spanish opposition and some 3,600 troops
The British retreated after about two months, after suffering heavy losses from fighting and yellow fever
According to historians at the time, the Spanish lost most of their troops in defence of the city