Regional security chief shot dead in Mexico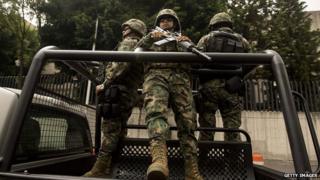 A Mexican security chief has been shot dead in the north-eastern state of Tamaulipas, officials have confirmed.
They said Ricardo Nino Villarreal and his wife were killed on Saturday as they drove in the neighbouring Nuevo Leon state, but their bodies were only found by passers-by the following day.
He was one of several men sent by the federal government to stem a wave of violence in Tamaulipas.
The state has been the scene of turf wars between drug-smuggling cartels.
The local officials said Mr Nino Villarreal, a former general, was killed as he drove on the road linking the cities of Monterrey and Nuevo Laredo.
Mr Nino Villarreal - who was security chief for the Nuevo Laredo area - is believed to have been ambushed by the attackers, who fired more than 100 shots according to officials.
The army took full control of security in Tamaulipas in May after scores of people died in a series of clashes between rival Zetas and the Gulf cartels.
The cartels smuggle large amounts of drugs over the border into the US state of Texas and beyond.
It is not the first time a high ranking member of Mexico's security forces has been killed.
In May, Tamaulipas' chief of intelligence, Col Salvador Haro Munoz, was shot dead along with his two bodyguards.