Argentine leader Cristina Fernandez 'stable' in hospital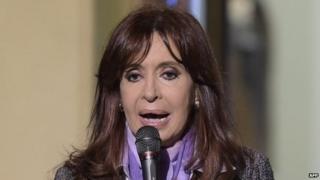 Doctors treating Argentine President Cristina Fernandez de Kirchner, 61, say she is "in a stable condition".
They said she was being treated for symptoms of a bacterial infection of the colon.
Her doctors also said she would have to rest for a minimum of 10 days after her release from hospital, for which they did not set a date.
The president has had a series of health problems, some of which have forced her to cancel official trips.
A government spokesman said Ms Fernandez would miss the G20 summit of leaders of the world's 20 biggest economies in the Australian city of Brisbane next week.
Ms Fernandez checked herself into a hospital in Buenos Aires on Sunday with an infectious fever.
Doctors said was suffering from a sigmoiditis, an inflammation or infection of the sigmoid colon.
As a result, the president had to cancel her attendance at a commemoration of the 30th anniversary of the signing of a peace treaty with Chile, which Chilean President Michelle Bachelet was also due to attend.
President Fernandez, of the left-wing Front for Victory party, was first elected in 2007 and then returned to power by a comfortable majority in 2011.
Last year she had an operation to treat bleeding on the brain, which forced her to rest for a month.
She also missed this year's independence day celebrations because of a throat infection.