Colombian tribal court Farc verdict: UN concerned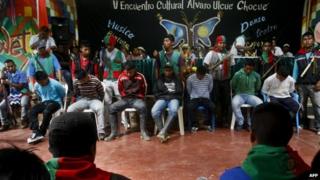 The United Nations says it is concerned by the verdict handed down by an indigenous court in Colombia to seven members of the Farc rebel group.
Five were sentenced to between 40 and 60 years in jail and two others will receive 20 lashes over the murder of two leaders of the Nasa tribe.
UN representative Fabrizio Hochschild said due process had not been followed.
He said any Colombian, even a rebel guilty of taking part in a murder, had human rights.
'No due process'
Mr Hochschild, the UN representative in Colombia, said the rebels from Colombia's largest left-wing guerrilla group should have been judged in an independent court.
Under Colombian law, indigenous authorities have jurisdiction in their own territories unless this contravenes national law.
The Nasa said the guerrillas were captured "in uniform and with rifles" and that "all are indigenous".
They were taken to an indigenous court over the murder of the two indigenous leaders, who were killed by the Farc for removing a billboard praising the late rebel leader Alfonso Cano.
The verdict and sentences were decided after several hours of debate by an assembly of about 3,000 members from the indigenous reserve in the Cauca province town of Toribio.
The sentences will be served in the state prison at Popayan, capital of Cauca.
'Caught in the middle'
Mr Hochschild said the rebels had no right of defence and were denied their right to appeal.
"Although we understand the anger of the indigenous [group] and their wish to see these crimes don't go unpunished as so many others, we are worried about due process," Mr Hochschild said.
Two years ago, the Nasa asked the Colombian army and the rebels to leave their territory, saying they were getting caught in the middle of the conflict.
When the army failed to comply, members of the tribe expelled soldiers from a local army post.