Argentina raids banks and financial houses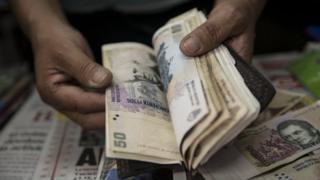 Tax officials have raided more than 70 financial organisations across Argentina, in what they say is an operation targeting money-laundering.
Agents targeted banks, currency exchange shops and other institutions in Buenos Aires and various provinces.
Officials accused them of tax avoidance and of facilitating capital flight out of the country.
Earlier this month, Argentina temporarily suspended the operations of Procter and Gamble, alleging tax fraud.
Argentina has been controlling access to foreign currency to try to maintain its falling central bank reserves.
The country is facing a raft of economic problems including high inflation at around 40% and a row with US creditors.
It has been excluded from international capital markets since its 2002 debt default, compounded by another default in July.