Brazil 'cannibal trio' sentenced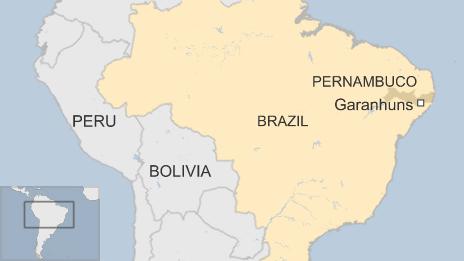 A judge in north-eastern Brazil has sentenced three people to 20-23 years in jail after they were convicted of killing a woman and eating her.
Jorge Beltrao Negromonte da Silveira received 23 years while his wife, Isabel Cristina Pires, and his mistress, Bruna Cristina Oliveira da Silva, were sentenced to 20 years.
The trio allegedly sold pastries made from the woman's flesh to neighbours.
They also confessed to killing two more women and will be sentenced later.
The defendants' lawyers said they would appeal against Friday's sentences.
The three, arrested in the city of Garanhuns in April 2012, were convicted of murder, desecration and concealment of a body.
Local media named the victim as Jessica Camila da Silva, who was homeless and was no relation to Bruna Cristina Oliveira da Silva.
The group allegedly lured their victims to their house by saying they were looking for a nanny.
The trio admitted in court to killing and eating their victim as part of a purification ritual. But they denied allegations that they consumed and sold the flesh in "empada" pastries.
Human remains were found in the back garden of the house the three shared.
Police also found a 50-page book written by Mr Negromonte called Revelations of a Schizophrenic. In the document he claimed he heard voices and was fixated by killing women.
At the time of their arrest, the trio claimed to be part of a group that supported "the purification of the world and the reduction of its population".