Ebola outbreak: Doctor becomes 'first' Cuban diagnosed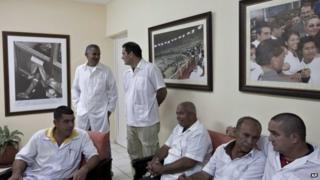 A Cuban doctor working in West Africa has been diagnosed with Ebola, officials have said.
The medic was in Sierra Leone when he caught the virus and is due to be transferred to Geneva for treatment, according to Cuba's health ministry.
He is believed to be the first case from the Latin American country.
Cuba has received widespread praise after sending more than 250 medical staff to West Africa, with 200 more preparing to travel there.
Since the disease's outbreak, the island nation has sent more frontline staff to afflicted regions than any other country.
Its efforts have been praised internationally, including by officials in the United States, which has maintained an economic embargo on Cuba for more than five decades.
More than 5,000 people have died in the current Ebola outbreak - almost all of them in West Africa.