Chile court compensates 30 former political prisoners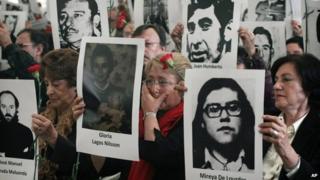 A Chilean court has ordered the state to pay around $7.5m (£4.8m) to 30 former political prisoners.
They were were held on a remote island in the extreme south of the country during the military rule of Augusto Pinochet.
The prisoners, who include political leaders and government ministers, were held for two years from 1973 on Dawson island in Tierra del Fuego.
The justice ministry said they endured "immeasurable moral injury".
In a statement, the ministry said they were "detained illegally on an island on the edge of the world."
They were "mistreated and lived in a state of anxiety and uncertainty about their own fate."
The prisoners were held in crowded barracks in sub-zero temperatures and underwent forced labour.
Four of the prisoners died as the case went through the courts.
Many of them went to live in Australia, Canada, the Netherlands and the United States after they were released.
Dawson island is 4,000 km (2,500 miles) from the Chilean capital, Santiago and lies in the Magellan Strait in Tierra del Fuego - a wind-swept archipelago on the southern tip of South America.