Colombia kidnap: Farc to release Gen Alzate 'next week'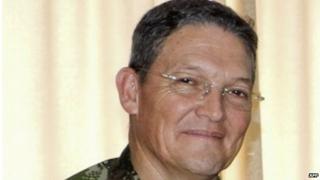 Colombia's Farc rebels will release five captives, including Gen Ruben Dario Alzate, next week, President Juan Manuel Santos has announced.
Mr Santos said information about their release had been received, but he did not specify when it would happen.
Ruben Dario Alzate is the first Colombian general to be abducted in 50 years of civil conflict.
Peace talks between the two sides were suspended after the men were captured by the left-wing rebels last Sunday.
Cuban and Norwegian officials acting as mediators first announced a deal for their release on Thursday.
The rebels said they seized the men because they were unhappy at the continuation of Colombian military activities during peace talks.
---
Handover details: Arturo Wallace, BBC News, Bogota
President Juan Manuel Santos is likely to order the interruption of any military operations in a designated area for a short period of time, usually no more than 48 hours
A delegation of the Red Cross travels to a previously agreed meeting point, probably by helicopter or by boat over the Atrato river
ICRC conducts medically assessment of the captives on site
ICRC will only confirm the men's freedom once they are inside its vehicles and on route to the place where they are handed over to the relevant authorities
A more thorough medical examination and a debriefing will follow before the ex-captives can finally meet their families
---
Condition for talks
Farc negotiator Pablo Catatumbo had earlier called for a bilateral ceasefire.
President Santos had demanded the men's release before peace talks could resume.
An estimated 220,000 people have died in five decades of armed conflict in Colombia.
Gen Alzate was travelling along the Atrato river in the northern province of Choco by boat when he was captured along with two companions.
Two more soldiers were captured by Farc in Arauca a week earlier.